What she looks like
Edit
Tapsule is a small, female, fat, black and white american short haired cat.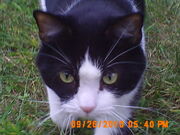 Personality
Edit
Tapsule is cute. She loves to eat food and she loves evelyn and sometimes Brianna, but she loves Evelyn more!!:)
Others she knows
Edit
Tapsule likes evelyn, especially when she feeds her. Tapsule likes Evelyn and evelyn loves her to PIEces!
Sam cares about Tapsule in small amouts, and Tapsule likes him back!
tapsule likes to sleep in moms bed. tapsule likes her, even though mom finds her really annoying.
Dad and Tapsule like each other. Tapsule loves to sleep on Dad.
Tapsule likes Brianna. Brianna sometimes feeds her.
Cricket and Tapsule are archenemies. The whole family is trying to stop them from fighting!
Cool facts
Edit
We got Tapsule as a reward for cleaning our house. We got her from our neighbors.
SHE'S ADORABLE!!
Tapsule used to have a nasty habit of peeing all over the house, but then we started feeding cricket when she used the litterbox and she caught on!
her birthday is august 16 and she is going to turn 5 this august 16!
HAPPY BIRTHDAY TAPSULE MY SWEET LITTLE BOO BOO BUNNY BEAR! :) I LOVE YOU SO MUCH!
YOU'RE TURNING 5 OMG!! 
I thought you were turning 6 but apparently I made a simple math error a few years ago.  *bows head in shame* lets not talk about that
psst I hope you like the tuna water you'll get later, I'm eating the tuna! 
And I hope you play with the toy I bought you instead of sitting and judging
FUN FACT: Tapsule's original name is Pearl, because she has a white stripe around her neck as to resemble a pearl necklace. When we brought her home from our neighbor's, we re named her Tapsule. 
One day you will all work for me. 15:56, August 16, 2013 (UTC)
#iamasuperstar (talk) 16:00, August 16, 2013 (UTC) HAPPY BIRTHDAY MY BEST FRIEND CAT THEREFORE YOU ARE THE BEST CAT AND OMG TUNA WATER LUCKY LOL!
Happy Birthday Tapsule :) -- Anthony likes trains and so will you. >:P 16:05, August 16, 2013 (UTC)
)         happy birthday tapsule from sam (Via ILB's account)