South Park



No Title

No information
Television series
Edit
South Park is an American sitcom created by Trey Parker and Matt Stone for the Comedy Central Network. south park si the best show ever.
User reviews
Edit
Use this area to tell us your opinion on South Park! Please sign any comments you make. Thank you!
South Park is definitely my favorite show, and the funniest out there. I won't deny it's tendency to be dirty, gross, and highly offensive, but that's the way I like it! *trollface* Problem? Buddy the Elf! What's your favorite color? 15:23, May 5, 2013 (UTC)
South Park: Bigger, Longer & Uncut
is the movie made for the series.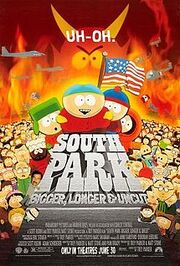 ? this is the best moveie ever.
User reviews
Edit
Might be my favorite, (aside of Elf. that one's been places with me. Places.) but definitely my favorite adult-themed movie. LOL THEY TOTALLY ABUSE THE FACT THAT IT'S UNCENSORED! It also ahs a nice happy ending, and when Kenny first spoke without his hood I was ecstatic! Fun fact: This is my first R rated movie to completely see. Buddy the Elf! What's your favorite color? 15:23, May 5, 2013 (UTC)