I HATE ONE DIRECTION! OR AS I LIKE TO SAY, ONE ERECTION! HAHAHAHAHAHAHAHAHAHAHAHAHAHAHAHAHAHAHAHHAAHA! THEY ARE WORSE THAN JUSTIN BIEBER! THATS A LOT OF SUCKINESS! 
WARNING: IF YOU LIKE 1D, GET OF THIS PAGE NAO!
one direction is a band a typical teenage girl loves. i hate them. they deserve to rot in a fiery pit in hell. look at these pictures, my fellow haters.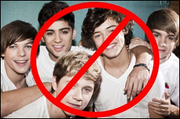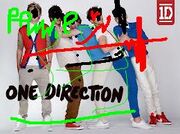 why one erection is hated by people who have a sense of actual direction in thier lives
Edit
they make horrible music
they are ugly
they are overrated
girls coo over them
2 or 3 or 4 or 5 of them i think are gay
they make horrible music
you get hated if you hate them
they are annoying
they exist
they make horrible music
one direction haters
Edit
POWER TO THE HATERS! I used to be indecisive, but now i'm not so sure. 17:50, April 2, 2013 (UTC) 
I used to be indecisive, but now i'm not so sure. 23:51, April 13, 2013 (UTC) signing again. hey haters gotta hate XD
stupid directionersEdit
sign below if you actually like these buttmouthed ducks. (no thatw as not a typo)
Anax445
jack8073
~~~~ Yoooo I loooove 1D now! Blame Lynn on that one!
Why is this thing coming up weird? IDK anyways that was Stefanie above, 3/26/14 1:59 AM :)
anti one direction pictures!
Edit
contact me on any chat if you want to make one. i will let you on my join me, and you can use microsoft paint to alter our one direction pictures!