Odd Is A character From Code Lyoko.
He is in two shows series Code Lyoko and My Baby Sitter's a vampire Spin Off.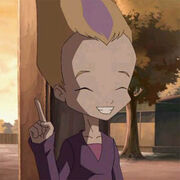 He is Mostly Seen in My BabySitter's A vampire Spin off series as a Vampire that is trapped in a 16 year old body.
in Code Lyoko he is a human that has friends Like Jeremy Ulrich William Aelita and Yumi that travel to a Virtual World Called Lyoko On Lyoko he is a Feline Cat.
Ad blocker interference detected!
Wikia is a free-to-use site that makes money from advertising. We have a modified experience for viewers using ad blockers

Wikia is not accessible if you've made further modifications. Remove the custom ad blocker rule(s) and the page will load as expected.