WARNING: DO NOT PROCEED THIS PAGE IF YOU LIKE JUSTING BEIBER. YOU COULD BE EASILLY OFFENDED AND I DONT WANT MY WIKI TO BE RSPONSIBLE FOR HURTING ANYONES FEEELINGS, SO IF YOU ARE OFFENDED BY THE ANTIJUSTINBEIBERISMS ON THIS PAGE, IT IS COMPLETELY YOUR FAULT. HEED THIS WARNING!!!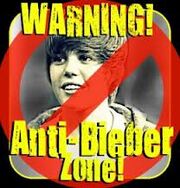 justin beiber is a stupid singer that a lot of people hate. he is uber gay. please enjoy thesse pictures.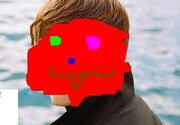 why we hate bustin jeiber?
Edit
his voice is so high pitched, and is very easilty confused with a girl's voice.a lot of people hate him, and they all have their reasons. his singing voice is very annoying, and only time he sounds good iis whne he uses auto tune. he also looks gay to. he has long weird hair, and earrings (sometimes). the only people who liek him have a brain deffect called "beingattractedtogirlyboysism".
justin beiber haters
Edit
please sign below if u also hate justin beiber! plz provide a reason (and/or comment if u like) why u hate him!
he is such a bad singer! booz! Ilovebartmorethanyou16 17:45, August 25, 2012 (UTC)
He stole and ruined the intials JB and he is not original and his music make my ears bleed! -JayTehSpongetta (talk)~"No, I don't have a third arm...silly fans!"-Joe~"Why do my nostrils whisper to me?"-Candace 17:50, August 25, 2012 (UTC)
Just Awful... No! More than awful ****ing TERRIBLE. HAL 9000.01 01:05, August 26, 2012 (UTC)
OK I am not going to call myself a "hater" I don't hate the little idiot but he can be annoying at times...the way he dresses is not complementing at ALL. He needs to man up and dress like a MAN, Well, when he looks and sounds like one that is. Oh, wait....that might never happen! He will always drss like a jerk? Darn! :/ Anyways I must admit I like his newer sound better then his old high-voiiced 8-year old soundin' self! Seriously, the 1st song of his I heard was "One Time" and I thought, "Aww! He sounds like a cute little 8 year old boy!" Then I saw him in a magazine and it said he was 15 i was like holy geez he IS!? He does not sound it! :O Then...from then on his music is annoying... FACT: His music video "Baby" is the most watched Youtube Video ever? :O Sorry I wrote a lot lol I tend to ramble oh well there is your story! :O ;) lol I Am A Superstar!! : ) 01:15, August 26, 2012 (UTC) VOTE RETRACTED BECAUSE USER NO LONGER HATES JB BUT SINCE SHE WROTE VALUBLE INFORMATION I WILL NOT CROSS OUT I used to be indecisive,

but now i'm not so sure.

17:26, April 2, 2013 (UTC)
I'm not a fan. BLAH!!! Did you try the Madagascar Chocolate? — Person1507 (Talk to me) 01:32, September 1, 2012 (UTC)
T to the E to the R R I B L E TERRIBLE! (WHAT?) T to the E to the R R I B L E TERRIBLE! Justin Bieber is a total idiot!!! He's no more awful than that time when Perry was zapped by Dr. D's rays and I thought that he disappeared forevs! I iz so not a fan. You ruined the world, Justin Drew Bieber. Just face it and quit the music industry forever. I love Perry more than you! (talk) 13:29, September 1, 2012 (UTC)
JUSTIN BEIBER SUCK KKILL HIM xD -FB (Stella)
dorks justin beiber fansEdit
sign here if u are a stupid beliber.
(beliber signature here XP)
Evelyn, You should know why I like him! And I hate that you put ths here! I am so disapointed! :( Ravensfreak52 00:51, August 27, 2012 (UTC)
Agent YMS (Sorry, but I like his music! XD He did sound like a girl (for example, Baby), but I don't think he does anymore, since his voice broke! =D (for example: Maria) Give the guy a break! ;)
anti justin bieber pictures people made!
Edit
here are some pictures the justin beiber haters made on join me! (if u want to make one, plz contact me wherever i am (prefreably this or phineas and ferb wiki's chat) and make one on my join me!
IAAS's Anti-Bieber Pics (I got carried away!)
Edit
ILovePerryMoarThanU1337's Opinion on JB
Edit
WARNING: Remember, if you're a Belieber, get off the page now, as this portion is fully ranting against JB, as is the rest of the page. Thank you for your patronage.
Justin Bieber...where do I start?...He's the worst singer in existence, he's super gay, and he deserves to die. One night, I was having a dream that I could kill anyone with anything, guess who I picked and what weapon I used? Kill JB with a chainsaw!! >:3 All those frantic little girls who go ga-ga for JB are really out of touch with good artists. Screw you, JB. You destroyed our peace of mind and the minds of several girls out there. All I can say to you, Justin Drew Bieber, is...screw you, right Perry?
Perry: Grrrrrr. (Platypus for "You are correct!")
Thanks Perry. That brings an end to this portion...for now.
I love Perry more than you!
(
talk
) 13:17, September 1, 2012 (UTC)
AnthonyDaBest's Anti-Bieber Pics
Edit